November was extremely busy for us here at RMDM Group, as we saw a significant increase in demand for people wanting to take our popular cancer blood test. We are very fortunate to be working with Centre For Health and Human Performance in ensuring that cancer diagnostics is available through these difficult times.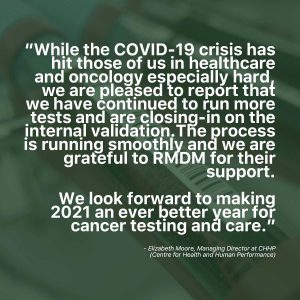 Improving the scope and accuracy of cancer diagnosis is a key priority for the UK, and essential for improving the nation's cancer outcomes. The UK Government has outlined two ambitious targets to achieve a step-change in cancer diagnosis.
1. By 2028, the proportion of cancers diagnosed at stages one and two should rise from around half to three quarters of cancer patients.
2. From 2028, 55,000 more people each year should survive their cancer for at least five years following diagnosis.
For these targets to become reality, the roll-out of high quality and fast diagnostic services across the country, and the concomitant development of personalized medicine with companion diagnostics could be transformative; but it will also require close and co-operative working between the NHS, and the pharma and diagnostics industries.
The COVID-19 Effect
The cancer diagnostic and care pathways have been massively disrupted by COVID-19. According to Cancer Research UK, more than 350,000 people in the UK have missed out on being urgently referred to hospital with suspected cancer symptoms since the end of March.  The same research also show that the number of people starting treatment also dropped by 31,000 between April and July, or over a quarter compared to the same time last year.
Michelle Mitchell, Cancer Research UK's chief executive, said that the COVID-19 pandemic has had a "really devastating impact on cancer services and patients", that cancer patients do not want to end up being "collateral damage", and that even before the virus struck, "cancer survival rates lagged behind those in comparable countries".
COVID-19 has thrown the weaknesses of the UK's cancer services into sharp relief, as screening, patient referrals, treatment, and of course clinical trials, have all been severely affected. If the UK's cancer services are going to recover from the effects of COVID-19, and achieve the Government's ambitious targets, then we need to embrace innovative new technologies which can change how we approach cancer diagnosis and care.
PanTum Detect Test
PanTum Detect is the world's first screening test that detects all types of cancer at a very early stage. Safe, proven and reliable, PanTum Detect is made possible by the innovative EDIM (Epitope Detection in Macrophages) technology developed by Dr.Johannes Coy and his team.
About TKTL1
The TKTL1 gene was identified by Dr.Johannes Coy back in 1995, while studying the human genome at the German Cancer Centre. It has since proven to function as a biomarker, that flags the metastatic stage of all cancers, and is directly linked to the uptake of glucose of cancer cells via the metabolic pathway. The TKTL1 gene is used in our own PanTum Detect. Learn More https://rmdm.group/vision/diagnostics/